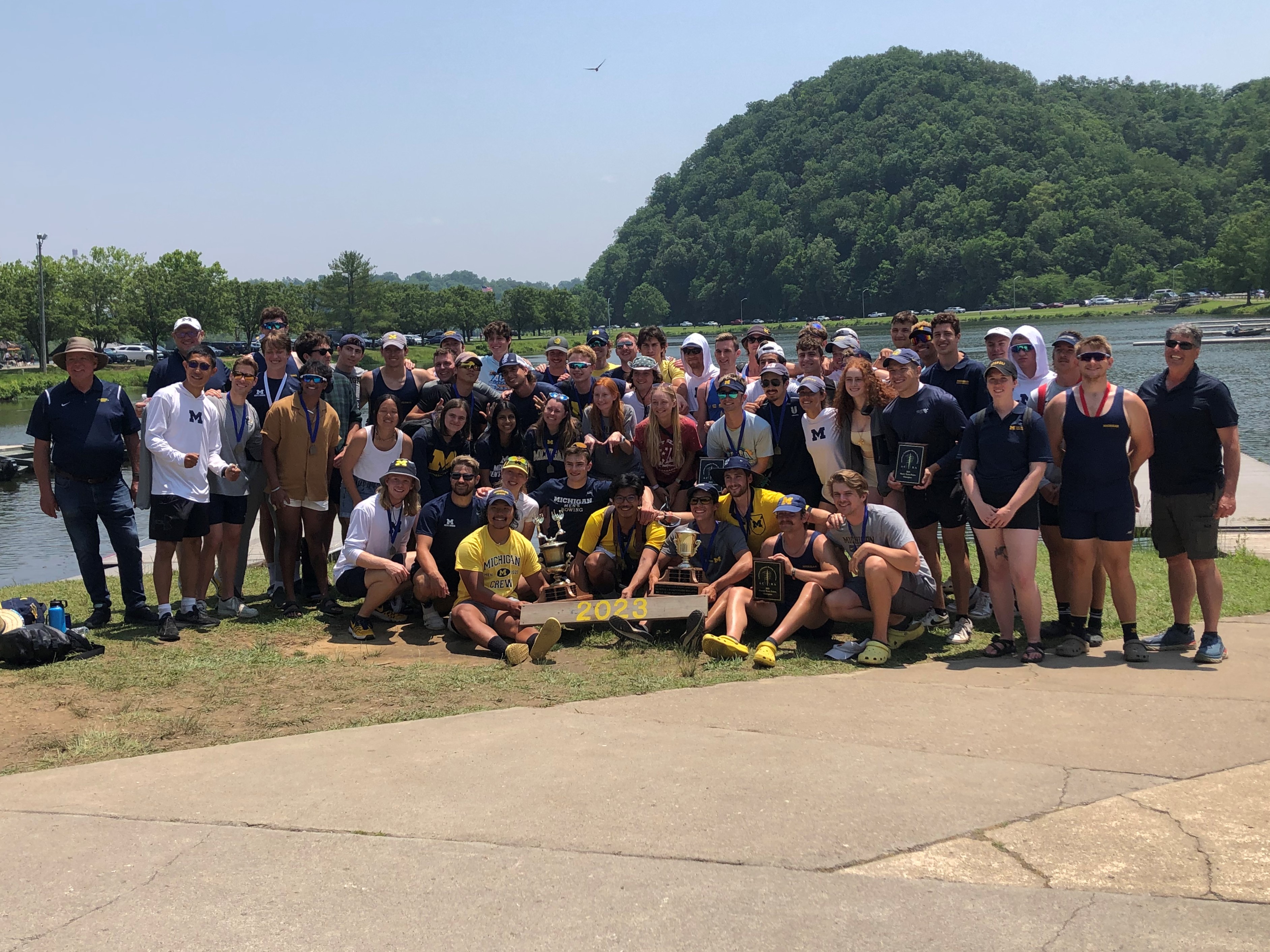 May 21, 2023
After only three short days at home, the team headed down to the American Collegiate Rowing Association (ACRA) National Championships, held on May 19-21 in Oak Ridge, TN, to finish up their season.
For the National Championship, Michigan fielded 9 boats:
First
,
Second
, and
Third
Varsity 8+'s, a
Varsity 4+
, a
Varsity Pair
,
First
and
Second
Novice 8+, a
Novice 4+
, and a
Novice Lightweight 4+
(the links take you to the video feed of each race). The live feed was spectacular this year, with some great drone shots. The video feed also includes commentary from former Michigan Rowing coach Charley Sullivan who was brought on as the official ACRA announcer.
The team arrived in Oak Ridge on Wednesday evening and conducted three practices before the racing started on Friday. At the end of Friday's racing, all Michigan Boats had progressed to the A/B semi-finals, or the Grand finals.
On Saturday the Novice Lightweight 4+, the Second Novice 8+, and the Third Varsity 8+ finals were held, with Michigan earning Gold in all three races by very large margins. All other Michigan 8+s, and the pair progressed to the Grand Finals, while the Varsity and Novice 4+s both progressed to the Petite Finals.
Sunday brought the rest of the Grand Finals. Michigan started off the day by earning a Bronze medal in the pair, followed by the Novice 4+ winning the Petite Final, and the Novice 8+ winning a narrow victory over a very tough Delaware crew to take home the gold. In the afternoon the Varsity 4+ finished 6th in the Petite Final, and the Second Varsity earned a silver medal. The day was finished off with the Michigan Varsity 8+ finishing 4th behind some very fast crews from Notre Dame, George Washington University, and UCLA.
After all the races were run, the final point tally gave Michigan its 14th consecutive National Men's Team Points Championship, as well as the National Overall Team Points Championship which incudes both men's and women's team points. This year marks only the third time the Michigan Men's team has been able to earn enough points to take home the Overall Team Points trophy.
This is a rebuilding year for the Michigan Men's team, with this year's Varsity 8+ consisting of five Sophomores and Three seniors, and the Second Varsity 8+ consisting almost entirely of Sophomores. In addition, the Freshman class under first-year coach Todd Gocken has proven to be a considerable force, with 23 of Michigan's 28 Freshman athletes ending the season with a win and earning a Gold medal at the national championships. Head coach Gregg Hartsuff and the rest of the coaching staff are very excited to see what the next few years holds for these rowers and this team.